I'm not really one to make resolutions, since I am so likely to break them by day 3. However, I ran across this organizing site a week or so ago, and organizing like this sounded like a goal that would be easily achievable.
SA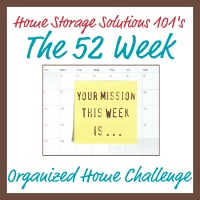 This week's project is to de-clutter kitchen counters. I like to keep my counters are pretty bare, so this isn't a very time consuming challenge for me. The coffee maker, Kitchen Aid mixer and electric tea kettle are on the counters. I used to have a bread maker on the counter as well, but mine broke a few weeks ago, and I don't know if it will be replaced. When the mail and newspapers get brought into the house, they tend to be deposited on the kitchen island. Same with Andy's keys, wallet and whatever else he might be carrying. I think I might buy a cute basket to set on the counter by the door for this sort of thing.
Cancelling the newspaper is another thing for me to consider in terms of decluttering. It would reduce the amount of paper coming into our house quite a bit, and the news can be read on-line or heard on local radio stations. Also our local paper is going to start delivering only 3 days a week, instead of the current 7 days a week, but the cost is only going down by $4 a month, which seems to be somewhat of a rip-off.
A personal goal I have in terms of organization is to get back into menu planning. For many years I made a weekly menu plan and it saved a lot of time, and probably money too, since I didn't have to run to the store three times a week, and I also made better use of leftovers. I tried to make use of items already in my pantry and freezer for the most part, and my grocery buying focused more on restocking perishable items and staples, and stocking up on good deals, rather than buying things for the next days meals. For the last few years, I haven't been menu planning and over the past year my grocery shopping has deteriorated into aimlessly wandering through the store, tossing items into my cart without much of a plan at all.